Plug and Profit from the Proven Local Business Blogging Advantage..
Start Offering a

DFY Local Blog Service

(in 20 Lucrative Offline Niches) with this NEVER Seen Before, Agency-Grade,

"Local Lead-Blog" Business Bundle
..
Land Recurring Clients for Easy Services
(Built-In Blog Features do ALL The Work)..

20 Hot Local Industry
Niche Blogs

Essential Plugins Installed and Configured

Content Curation Option Included and Configured

Ready and Configured for SEO

Video with Opt-in Header Enabled

Easy Install in Just a Few Steps

Add any Opt-in Code of your Choice

XML Sitemaps Ready for Google Indexing

Interactive, Visual Design, Fully Responsive

No Need to Find Expensive Designers

Don't Have to Spend Hours on Content Research

No Need to Worry About SEO Configurations
Install Professional Business Blogs (w/ Lead Capture)


In Only Minutes w/Powerful Auto Build Features
Not Seen Before; Pro-Agency Style, Auto Content Generating, Lead Sucking,
SEO Optimized, Video Enabled, DFY Business Blogs.
Visually Stimulating, Proven Click Magnet Design (Interactive Animated Visuals Sucks Clicks In)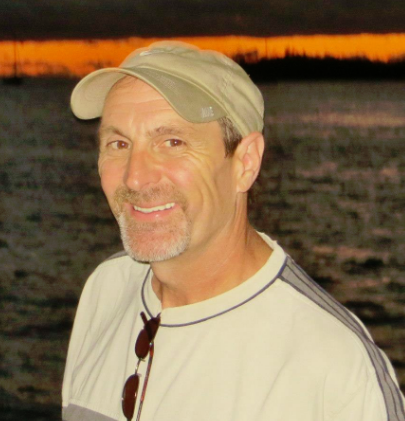 Hey Nick Mancuso here, welcome to Offline Lead Themes…
Just a little about me, I've been working with clients of all sizes, corporate and local for well over 20 years.. You may have seen me releasing products in this market-space for the last 10+ years.. The products we put together are from my experience in the trenches listening to the needs and wants of clients..
Our goal has always been to bring you products designed to 1) Help the businesses you'll use them on Add to their Bottom Line.. and 2) Help You (the consultant) to Generate More Revenue from More Clients on a More Consistent Basis..
That being said, one of the most requested services we've seen recently from clients of all sizes is help with setting up a Business Blog... It only makes sense, Business Owners look for the Best Bang For The Buck and with one simple blog you could enhance Social Marketing, Branding, Engagement, Lead Generation, SEO Status and Market Place Authority to name a few..
For the consultant it gives you a Tangible Service to provide (which is always easier to get paid on), and provides you a service you could Charge Monthly for as well.. And you could feel good about providing a service that will add to your Client's Bottom Line..
So what we're providing here is a turn-key business blogging service you could plug in to any of these 20 popular (marketing minded) niches, and start charging them This Week.. All while doing as little work as possible on your end..
PS: We thought about releasing 10 (which is a solid value in itself) and holding 10 for another sale.. But we went a little crazy and We're Giving You ALL TWENTY On The Front End!! Take a Look at this Mega Value of an Instant Business Blogging Service;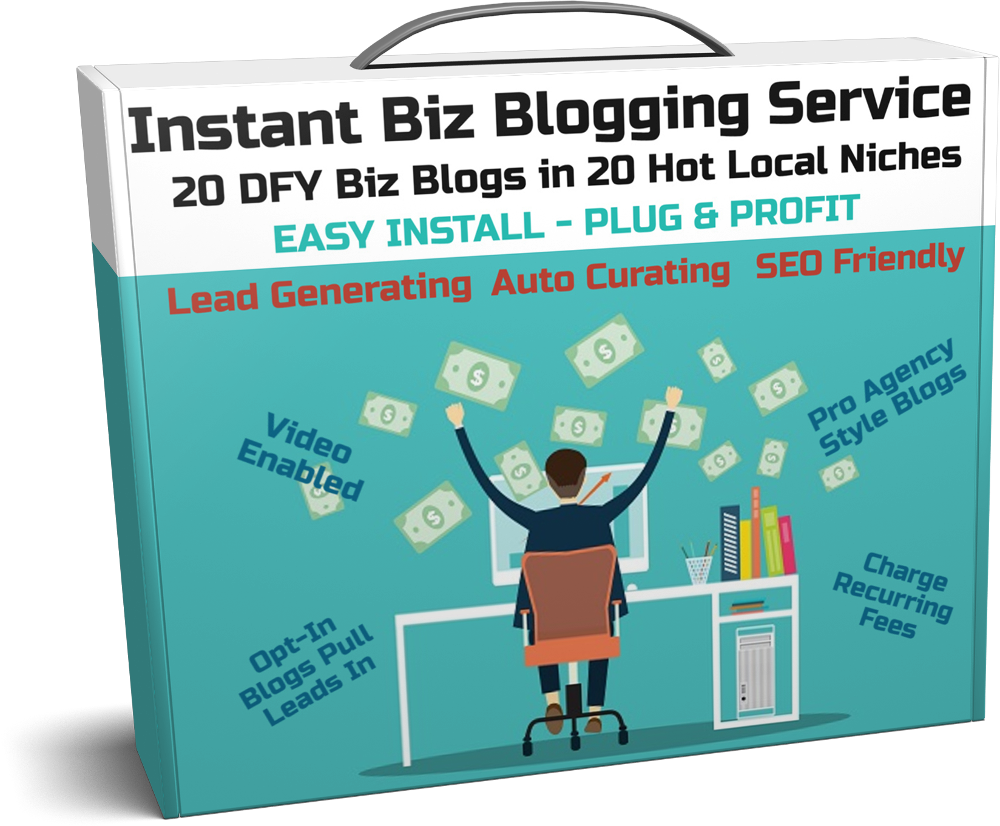 Use these 20 Custom Designed, Auto-Curation, Lead Pulling,
Modern Style Blogs to save you 100s of Hours and $1000s of Dollars
when you offer one of the most powerful business web services of 2019
Install These Business Blogs in Minutes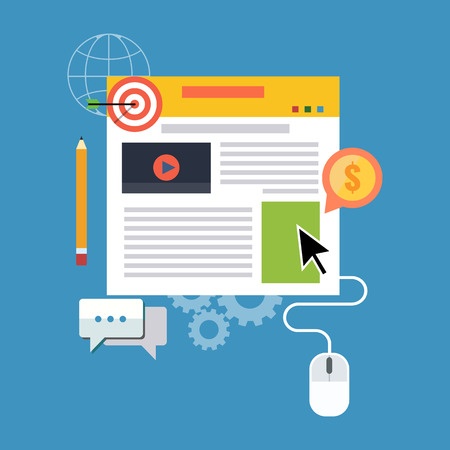 Set it Up Once get paid for Months
Add Current Content in Minutes

SEO Optimize In Minutes

Attach Opt-in to Any AR
You're ready to collect monthly payments!
Your instant Biz-Blog Service for
20 High-Spending Niches Desperate
for a Proven Local Marketing Advantage...
Auto-Content Curation, Lead Generation,Click Magnets. Using the Proven, High-Impact,Digital Strategy of Local Business Blogging..


Local Blog Services are on the Rise
Accomplish So Much in One Fell Swoop, Touted as the Best Return On Time & Investment..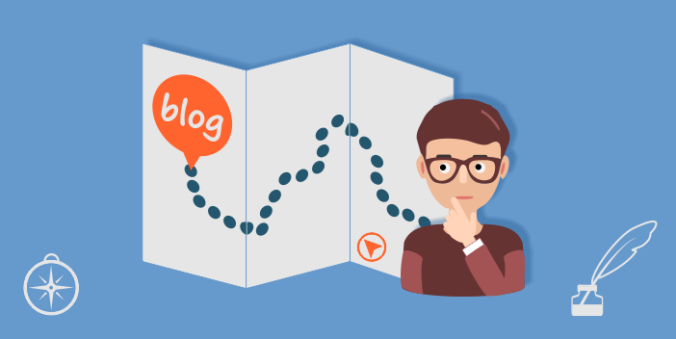 Local Blogs Incorporate All The Elements of Proven Successful online marketing..
Cover All these Benefits In ONE SERVICE..
SEO: Easy to Rank for Local Industry Keywords

SocialInfluence: Generate Sharable Content

Fresh Content:Build Relevance, Authority and Brand

Site Traffic:Linkback to the business website..
Lead Capture: Blogs Will get More Traffic w/ our built-in Opt-in...

It's easy to grow any business' contact list..

Video Content: It's Proven Video Gets Higher Engagement

Mobile: Use QR Codes to Take Traffic to Blog Content..
Leads you to Offering Additional Services like:
List Management Services

Content Services / Newsletter etc

Video Services (Power Content for Blogs)

Social Marketing Services

SEO Services

And more...
Introducing: LOCAL LEAD THEMES
TWENTY (20) DFY Blogs, Agency Style, Click Pulling, with Opt-in Forms, Auto-Content-Generation, Video Enabled Headers with Content Thumbnail Animations that Invite Clicks
(Click on the images to view a live demo of each blog)
Your business blog creation troubles solved..
The easiest way to Start Your Own Local Blog Installation Service (Content Curation Built-In)..
No Paying Expensive Web Designers

No Need to Spend Hours On Content

No Need to Fuss with SEO Configuration
Take a Look at What's Included!
Image/Video/Slider with Opt-in Header

Content Curation

Multiple Layout Options

Essential Plugins

Add any Opt-in Code

Niche Based Contact Forms

Multiple Ad Spots

Legal Pages

GDPR Enabled

Social Links

Store Page

Ready for SEO

Easy to Install (Training Included)
Top Business Boosting Recommendation By All Major Marketing Resources..
PLUS YOU GET - Blogging For Business
(Agency Site)

Install These Valuable DFY Web Properties in a Few Clicks:
Offer Local Business Blogs

Rank and Rent Services

Use for your own lead gen
Provide w/ Social Services

Provide with Video Services

Offer Lead Generation Blogs

Each Blog Has Agency-Grade Features..
Essential plugins for Spam Control, Backup Management, Sitemaps, SEO, Site Security, etc. All set up and configured
Works on multiple devices, Enhance SEO & Expand Exposure
Curate Current, Niche Related, Content in Just Minutes
Niche Based Contact Forms
3 Options for Opt-In / Contact For Works for Any Client's Needs
FOUR Legal Pages Included with content, tailored for your blog
Comply with the Latest Requirements In a Location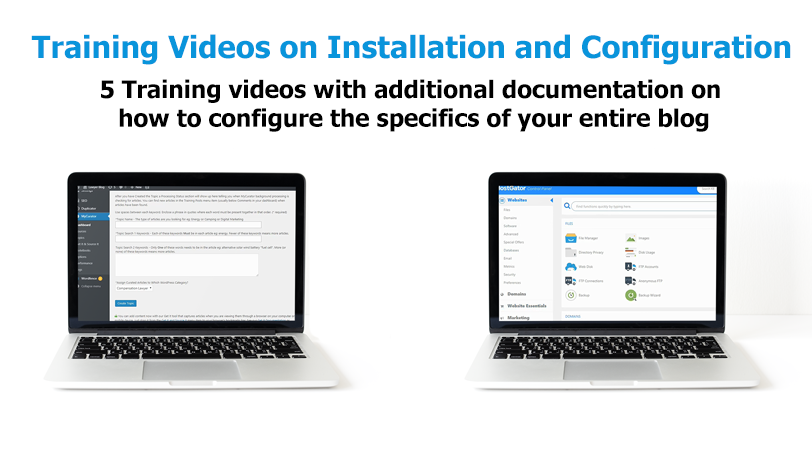 Smart Businesses and High-Ticket Media Agencies Understand The Proven Power of Having a Business Blog:
Blogs are an "Outreach Vehicle" for Any Business.. Build a Brand, Grow Social Traffic, Provide Authority Content, Field Questions, Enhance Engagement, Capture Leads, Take Advantage of the Latest SEO Algorithms and more..

But Unfortunately the top reason most businesses never start (or try and stop) blogging, is a Lack of Consistent Quality Content.. That's where your local blog services could come in and offer a proven way to truly help these local businesses.. while putting in minimal effort on your part
Save / Make Thousands Offering These Services..
Below is the Real World Value to have a Blogging Service Outsourced
ACT NOW AND GET ALL THESE BONUSES!
Bonus 1: 500 Top Blog Feed Sources


25 feed sources per niche, use for curation
Bonus 2: Blogging Paycheck - 10 MP4s (w/ Resell Rights)


The complete step-by-step system for monetizing your blog
Bonus 3: Blog Authority - 10 MP4s (w/ Resell Rights)


Start Your Very Own Blog for Profit and Build a Raving Community of Readers
Bonus 4: Ad Banner Templates


30 Banner Ad Templates in 9 different ad formats - PSD files
Let's Recap ALL That You Get!
20 Authority Niche Blogs with Content Curation Included

Agency Blog DFY to Sell These Services

500 Top Blog Feed Source Links

Blogging PayCheck - Video Tutorials (w/ Resell Rights)

Blog Authority - Video Tutorials (w/ Resell Rights)

Ad Banner Templates - PSD Files
Real World Value of Over $2000

Common Questions Our Customers Ask
Can I use this for unlimited clients?
There is NO separate offer for a Personal License or a Commercial license during this limited Launch Special. There are no recurring fees and it's a one-time price (right now).
Is there a money back guarantee / What is your refund policy?
We have invested much time and money into this content, and because it's essentially a digital download, all sales are final. That's why we made the sales page detailed so you know exactly what you're getting. If you do find problems using this product, please raise a ticket with our support desk.
What are my rights with the images used?
The images have been obtained from public domain websites and websites offering creative commons licenses. Attributions have been provided where needed either in the corresponding article or in the disclaimer section. You can use the images as part of the blog.
Do you offer an installation service?
We provide a limited time blog installation service. At a very reasonable price..Please refer to the Custom Install option within the Member's area.
You will find the bonuses within the Members area under "Bonuses". We have assembled a massive set of bonuses that will help you be even more profitable in your marketing efforts.
Copyright 2019 - Offline Lead Themes - All Rights Reserved